Retiree Harry Chadwick Passes Away March 23, 2020
March 23, 2020
Harry Chadwick (November 13, 1927 – March 23, 2020)
Retired May 1, 1992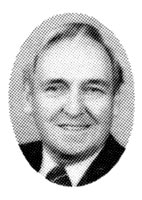 Harry was President of Local 584 in the Early 80's and also served as Alderman for the city of Brampton and as a Member of Parliment from 1988 to 1993.
Our sincerest condolences go out to his family.
Harry Chadwick will be buried in Collingwood on April 8th. Brampton will be lowering the flag at City Hall and will recognize his passing at the next City Council meeting on April 8th.
Obituary
Harry Posting Chadwick
November 13, 1927 – March 23, 2020
Harry was married to Shirley from 1953 until she passed away in 1992. He was the loving dad of Kenneth and Donna, devoted and adoring grandpa to Shawn, Karen, Shelby and Jeffrey. He was their hero with his amazing strength and abundance of love. They are all so proud of him and of his many accomplishments.
Harry will be dearly missed by Ruth Lowther and her family; his good friend Elizabeth Gibson; the congregation at Wasaga Beach Community Presbyterian Church and the many friends and political colleagues from his years of campaigning and canvassing.
Harry served in a public capacity for 10 years as an Alderman for the City of Brampton and for 5 years as a Member of Parliament for Bramlea-Gore-Malton. He was also the president of his local C.A.W. while he was employed at Ford Bramlea Parts Distribution Centre. Harry retired to Wasaga Beach in 2003 and was still active in politics.
Harry fought with all he had to beat the cancer that would eventually take him from all of us. As an expression of sympathy memorial donations can be made to a hospital or medical care facility of your choice. Harry received the best care at the Royal Victoria Regional Health Centre in Barrie as well as wonderful homecare provided by the personal support workers from St. Elizabeth Health Care; Colleen in particular was Harry's superstar. Due to the ongoing public health crisis there will be a small private funeral service for the family and a Celebration of Harry's life will be held at a later date.